Kill Switch[1] is the eighth episode of the seventh season of Castle.
Summary
When subway passengers, including Detective Esposito, are taken hostage by a mysterious gunman, Castle, Beckett and the team must uncover the gunman's agenda before it's too late.
Recap
Promo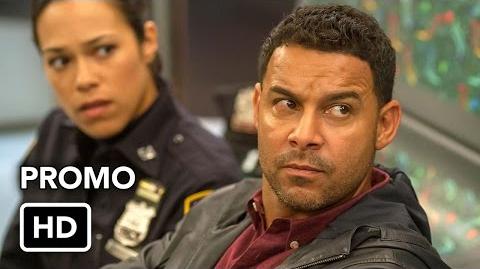 Cast
Main Cast
Guest Cast
Quotes
Castle: This feels different, doesn't it?
Beckett: What does?
Castle: Rolling up to a crime scene as a married couple. Like Nick and Nora Charles.
Beckett: Ooh, like MacMillan and wife.
Castle: Hart to Hart.
Beckett: Turner and Hooch.
Castle: Turner and Hooch aren't even married.
Beckett: Yeah, but you still remind me a little of Hooch.
Esposito: Hey, what kind of dad do you think I'd be?
Ryan: You'd be great.
Esposito: Even growing up with no role model?
Ryan: Well, you know, the thing of it is, you know what it's like not having a father. You'd make sure your kid never felt that way. You and Lanie... Hmm?
Esposito: No. She like things how they are. But, you know, maybe I'm ready for more than that, you know what I'm saying? Move forward.
Ryan: Huh.
Esposito: Hey, did you hear that? That sound?
Ryan: No. What's that?
Esposito: It's my biological clock ticking. Tick, tock, tick.
Ryan: We were having a genuine, honest moment here, and you had to ruin it by being a jackass.
Lanie: Got any of that left over for me? Javi, I was worried sick. I thought that...
Esposito: I know what you thought, but I'm here. I'm back. I'm all right.
Featured Music
"Symphony No.6 in F ('Pastoral')" - René Leibowitz & Royal Philharmonic Orchestra
Trivia
This episode is primarily centered around Detective Esposito.
This is the second episode where someone gets held hostage. The first was Cops & Robbers. Just like Beckett worrying about Castle, Lanie starts to worry about Esposito.
The first Turner and Hooch comment was in A Deadly Affair.
This episode had Esposito thinking of proposing to and starting a family with Lanie.
The subway car has a poster for King Lear, featuring "Alfred Heath". It can be see over the left shoulder of Grant Gerber, the salesman. "Sir Alfred Heath" was the cover identity used by Detective Inspector Colin Hunt in The Limey, until the real Sir Alfred Heath arrived.
Castle once again references The Old Haunt and says drinks are on him, in a manner which suggests he still owns it.
References
Related links
Community content is available under
CC-BY-SA
unless otherwise noted.