Like Father, Like Daughter[1] is the seventh episode of the sixth season of Castle.
Summary
Alexis enlists Castle's help on an Innocence Review case to prove that a death row inmate, Frank Henson (guest star James Carpinello, "The Good Wife"), was wrongly convicted. With only 72 hours left before his execution, Castle and Alexis (with help from Beckett) urgently investigate the original murder, only to uncover explosive secrets that may seal Frank's fate. Joelle Carter ("Justified") guest stars as Frank's long-time girlfriend who has always believed in him.
Recap
Promo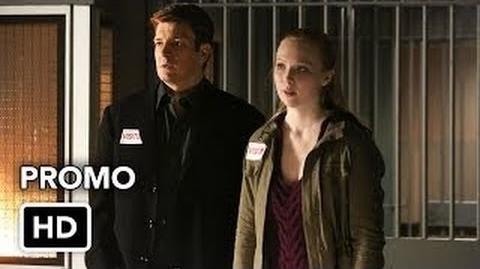 Cast
Main Cast
Guest Cast
Quotes
Beckett: She's practically family. I care about her too.
Castle: You're pretty great, you know that?
Beckett: Castle, I am not getting married in space.
Castle: Why not? We could be the first. Commercial space flight is only a couple of years away. And you said you wanted it to be special.
Beckett: Yes, because when I was a little girl, imagining my wedding day being stuck in a small tin can with a thousand tons of rocket fuel strapped to my ass is exactly what I had in mind.
Featured Music
Trivia
It has been a couple of weeks since Alexis spoke to Castle and she hasn't been answering any of his calls.
When Castle got busted stacking pencils on his nose, his screensaver was showing, "You should be writing". Second time since first season, Hedge Fund Homeboys
At the end of the episode, Alexis finally makes up with her father and thanks him for his help.
References
Community content is available under
CC-BY-SA
unless otherwise noted.