Jurassic World: Dominion Dominates Fandom Wikis - The Loop
Play Sound
Pretty Dead is the twenty-third episode of the third season of Castle.
Summary
Castle and Beckett are called to investigate when a contestant in a beauty pageant is found strangled and every suspect has a motive to commit murder, including jealous fellow contestants, the pageant's sponsor, and the show's host.
Recap
Promo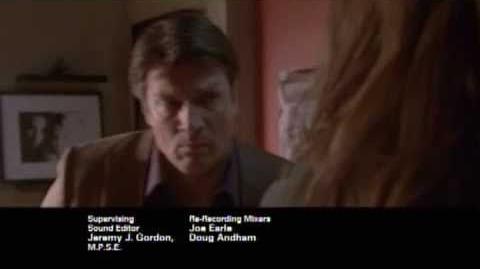 Cast
Main Cast
Guest Cast
Quotes
Castle: She decided it was worth the risk and she is going to just keep showing up.
Beckett: That's a good choice.
Castle: The best thing to get a woman is something she said she wanted when she didn't think you were listening.
Montgomery: What if I wasn't listening?
Ashley: Mr. Castle, have you ever been crazy about someone who is determined to push you away?
Beckett: Hey Castle - oh, sorry guys.
Castle: No...uh... It's okay. Um… Ashley, I'm sorry, I do have to go.
Beckett: Ryan. Give me everything you got on Jeremy Keiper.
Ryan (to Jenny): I'm sorry, baby.
Featured Music
"Born This Way" - Lady Gaga
"I Will Think of You" - Laura Browne Sorenson
Trivia
Baron's alibi was that he was having drinks with Councilman Bollinger. This was the candidate to replace Jeff Horn in "Hell Hath No Fury", implying that Bollinger won the election.
Nothing could be more ironic than using Lady Gaga's "Born This Way" in a beauty pageant. They are most certainly not born the way they portray themselves and are instead the epitome of the kind of stereotype the song opposes. 
Captain Montgomery states that he and his wife have been married for 30 years.
After Montgomery tells everyone he's retiring, Beckett fills Castle in on the fact he retires all the time, just give it a week or two and then says "he's not going anywhere". Additionally, she says Montgomery like "the Brett Favre of the NYPD," a play on Favre's claims of retirement from the NFL before his actual retirement in 2010.
Castle's remark "I love the smell of hairspray in the morning. It smells of ... victory." is a reference to the movie Apocalypse Now.
This is Ashley's last appearance on screen, though he will still be mentioned in future episodes.