Private Eye Caramba![1] is the twelfth episode of the seventh season of Castle.
Summary
When a young Latin telenovela actress is murdered, Beckett and the team delve into a case that is as flamboyant and full of intrigue as any telenovela. Meanwhile, Castle is hired as private investigator by the show's sultry star to pursue the case from another angle.
Recap
Promo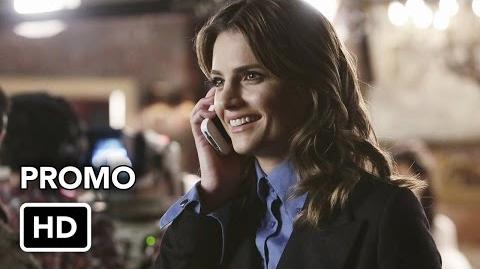 Cast
Main Cast
Guest Cast
Daya Vaidya as Sofia Del Cordova
Jackson Hurst as Harlon Mathis
Arye Gross as M.E. Perlmutter
Erick Lopez as Marcus Segundo
Nazneen Contractor as Layla Nazif
Kamar de los Reyes as Manuel Villalobos
Adam Wylie as Ronny
Franco Barberis as Francisco Herrara
Valorie Hubbard as Pam
Cindy Luna as Anahita Menendez
Vannessa Vasquez as Gabriella
Featured Music
"Obsessive Compulsive Tick" - Flavio Lemelle
"My Life" - Billy Joel
"La Torre" - Mikel Bou
Trivia
Esposito is a big fan of telenovelas, which explains his knowledge in the One Life to Lose episode in season 3.
This is the second episode with Castle using his PI narration. The first was The Blue Butterfly.
This is the first episode Castle tackles a person with a gun.
Ryan and Esposito ask Castle to repay them with floor seats for saving his life.
References
Related links
Community content is available under
CC-BY-SA
unless otherwise noted.