Room 147[1] is the sixteenth episode of the sixth season of Castle.
Summary
When a guilt-ridden young woman confesses to the murder of a struggling actor -- knowing details only the killer could know -- Beckett and Castle seem to have an open-and-shut case, until they uncover proof that their suspect couldn't possibly be the killer. When a second person confesses, equally convinced they committed the murder, the team realizes the case is far more mysterious than they thought.
Recap
Promo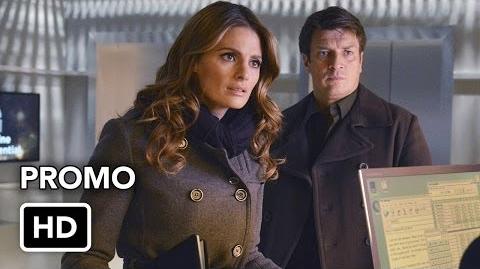 Cast
Main Cast
Guest Cast
Quotes
Castle: Do I smell coffee?
Beckett: If you do, it was made by elves.
Castle: You should know you're engaged to a genius.
Beckett: Yes, a genius at annoying me.
Beckett: If I have to hear that confession one more time, I'm gonna shoot someone.
Castle: Alexis. What's going on?
Alexis: Dad can I come home?
Castle: Come here.
Featured Music
Trivia
Interestingly, Pam's goal for killing Justin, which was to cause a scandal that would cause EHI to be shut down in revenge for her brother's death, would come true, as Beckett revealed that EHI was shut down pending an FBI investigation.
When being interviewed, the "suspects" all state that there was a painting over the fridge in the room, but in the tape of the original "murder", there was no painting there.
References
Related links
Community content is available under
CC-BY-SA
unless otherwise noted.