Valkyrie[1] is the first episode and the season premiere of the sixth season of Castle.
Summary
Last season ended with Beckett wrestling over whether to take a high-profile job in DC -- a dilemma made more complicated when Castle proposed to her. In the Season 6 Premiere of "Castle," Castle and Beckett will deal with the consequences of their decisions against the backdrop of a high-stakes investigation.
Lisa Edelstein ("House") guest stars in a three-episode arc as a tough and highly-skilled Federal investigator whose appearance plays a vital role in Beckett's decision about her future.
Recap
Promo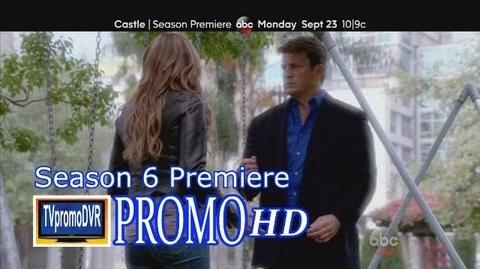 Cast
Main Cast
Guest Cast
Quotes
Castle: Kate, I'm not proposing to you to keep you here or because I'm afraid I'm gonna lose you. I'm proposing because I can't imagine my life without you.
Beckett: Well, in that case, Richard Edgar Alexander Rodgers Castle, yes. Yes. I will marry you.
Esposito: If your hero's fictional cop buddies are anything like your real cop buddies, then they'd have real work to get back to. So, bye bye now.
Castle: What if our hero was offering Knicks floor seats?
Beckett: : Oh my God! Oh my God. You're proposing.
Castle: Okay. You're surprised.
Beckett: Of course I'm surprised. I thought you were breaking up with me.
Castle: By offering you a ring?
Beckett: Well, you just-– you seemed so serious.
Castle: Of course I'm serious. This is the most serious thing I've ever done.
Beckett: Good.
Beckett: No, Babe, can--can you listen for a second?
Beckett: No, not "not yes". I... I...
Castle: You do know how this works, right?
Castle: Was I...? How bad?
Beckett: Based on the amount found in your bloodstream, you have less than a day to live.
Featured Music
N/A
Trivia
This is the first time in a Castle season premiere stated "To Be Continued" at the end of the episode.
Beckett calls Castle by both his legal and given names "Richard Edgar Alexander Rodgers Castle" when she says yes to Castle proposal of marriage.
Alexis returns from her trip to Costa Rica early with a new boyfriend named Pi .
Beckett and Castle exchange "I Love You" to one another.
Ryan states that he and Jenny have got only 4 more months before their baby is born.
Beckett and Castle discover the thieves left the building through the sewers after remembering the case regarding the secret entrance to The Old Haunt.
Beckett keeps her engagement ring around her neck.
Watch for Castle when Beckett told him that he has been poison and has less than a day to live.
References
Community content is available under
CC-BY-SA
unless otherwise noted.